How Pebble Finance Achieved a Rapid Launch with Alpaca Broker API
Pebble x Alpaca Interview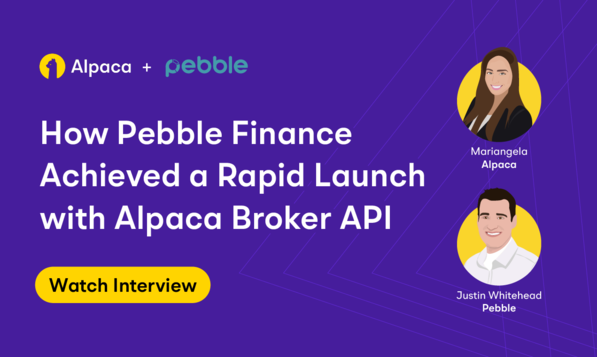 Discover how a registered investment advisor, Pebble Finance, created a financial platform that leverages AI through Alpaca API to help trading and investment in the US. Join us for an exclusive interview with Justin Whitehead, CEO and Co-founder of Pebble Finance, as he unveils the key strategies and tools that have helped propell their rapid launch.
Learn how the partnership with Alpaca, a brokerage technology provider, has helped accelerate Pebble Finance's platform. Gain a firsthand account of the onboarding process with Alpaca and discover how Broker API has helped shape Pebble Finance's trajectory.
Pebble Finance's long-term vision and milestones on empowerment and growth underline their commitment to excellence. Don't miss the opportunity to tap into their expertise and uncover the secrets behind their rapid launch.
Sign up now to gain exclusive access to the interview!
Back to Resources
Alpaca and Pebble Finance are not affiliated and neither are responsible for the liabilities of the other.
All views and opinions expressed by the guest speakers are solely their views and opinions and do not reflect or represent the views and opinions of Alpaca Securities LLC, Alpaca Crypto LLC, and AlpacaDB. The guest speakers' opinions are based on information they consider reliable and therefore Alpaca Securities LLC, Alpaca Crypto LLC, and AlpacaDB do not warrant its completeness, accuracy and it should not be relied upon as such.
Securities brokerage services are provided by Alpaca Securities LLC ("Alpaca Securities"), member FINRA/SIPC, a wholly-owned subsidiary of AlpacaDB, Inc. Technology and services are offered by AlpacaDB, Inc.
Cryptocurrency services are made available by Alpaca Crypto LLC ("Alpaca Crypto"), a FinCEN registered money services business (NMLS # 2160858), and a wholly-owned subsidiary of AlpacaDB, Inc. Alpaca Crypto is not a member of SIPC or FINRA. Cryptocurrencies are not stocks and your cryptocurrency investments are not protected by either FDIC or SIPC. Please see the Disclosure Library for more information.
This is not an offer, solicitation of an offer, or advice to buy or sell securities or cryptocurrencies, or open a brokerage account or cryptocurrency account in any jurisdiction where Alpaca Securities or Alpaca Crypto respectively, are not registered or licensed, as applicable.